Paint keeps me going!
My name is Klaas Lageweg (1978). As a visual artist, I create murals and paintings. Art is my means to function autonomously in this society. Creating and developing causes me to experience conflict, euphoria, disappointment and pride. In other words: paint keeps me going.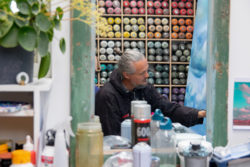 EEN KIJKJE IN HET ATELIER VAN KUNSTENAAR KLAAS LAGEWEG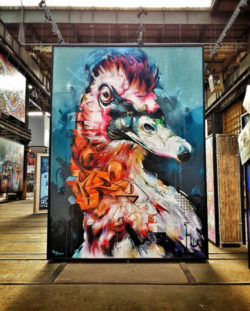 Raw Beauty, Straat Museum, Amsterdam (photo credits: @state.of.the.streetart)
I follow my instincts and intuition – in doing so, I get to turn my ideas into reality. My focus is always on the end result. As I find inspiration in my day-to-day environment, my work generally contains an observational outlook. In combining seemingly opposing forms, such as realism, pixel art and abstractions, I am always pushing the boundaries.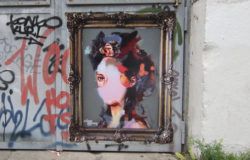 Paris, Dotster Dame
Through my work, I am seen for who I truly am, which is what any human being craves.
International
Works of mine can be found in Sweden, Greece, England, France, Switzerland, the United States, China, Spain, Italy, Belgium, Luxembourg, Czech Republic, Germany, Denmark and The Netherlands.
Commissions
I have done custom works and for Dutch broadcaster BNN, Netflix, Tesla, Grolsch, University Medical Centre Groningen (UMCG), Dutch Railways (NS), Rabobank, Provinciehuis Leeuwarden, Abe Lenstra Stadion (football stadium), housing corporations and countless city councils and private clients.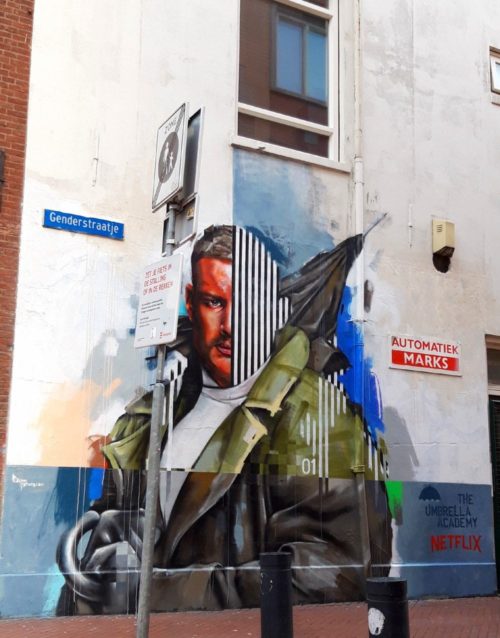 Umbrella Academy, Netflix, Eindhoven, 2019.
Exhibitions
My work has been exhibited at the Wynwood Mural Fest 2020 (Miami), 2010 World Expo (Shangai), Artcurial (Paris), Toss Gallery (Thessaloniki), Wallery Gallery (Stockholm), the Frysian Museum (Leeuwarden) and the Original Dampkring Gallery (Amsterdam). It has also been published in a variety of sources, among other in the art book "Mural Art".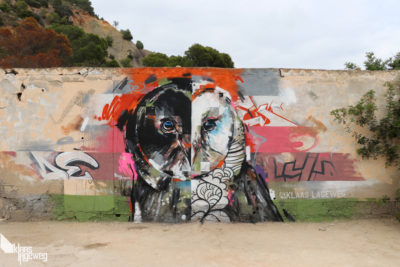 Two Faces, Ibiza, 2018
Awards
I've been nominated for the Dutch Street Art Awards and won the third place (audience choice) at the exhibition "Beeld van Beatrix" at Paleis Het Loo.

Getting Up, Marum, 2019.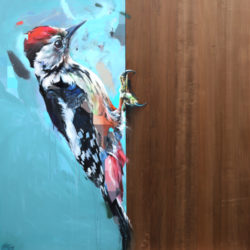 The Pixel Pecker